Synopsis: 
Adapted from the bestselling novel by Jo Jo Moyes, Me Before You tells the story of the unexpected relationship that blossoms between a contented small town Englishwoman and the wealthy, paralyzed Londoner who hires her as his caretaker. (source: rottentomatoes)
Trailer: 
Review:
Me Before You (2016) is a drama and romance British Film. A quirky small town woman and adventurous rich man falling in love. How can you measure love with time? Love is indeed timeless and beyond possibilities.
Characters: 
Louisa Clark (Emilia Clarke) – a 26-year-old woman who is creative, talented and funny but underestimates herself and has few ambitions. Her life changes when she begins working as a caretaker for a paralyzed man. Over time, she learns to harness her capabilities and step out of her limited comfort zone.
William Traynor (Sam Claflin)– a 35-year-old

 

who became quadriplegic after a motorbike accident. He is intelligent and wealthy, but his impairment has left him moody, angry, and bitter. Unable to accept never being the active and adventurous man he once was, he wants to end his life.
Camilla Traynor (Janet McTeer)– Will's mother who has a strained relationship with her son. She is severe and strict but she cares about her son's well-being.
Steven Traynor – Will's father who was mostly absent from his children's lives; Camilla Traynor blames him for destroying their family. He wants to divorce Camilla.
Katrina (Treena) Clark  (Jenna Coleman)– Louisa's younger sister who is a single mother, who works at flower shop. She has always been regarded as the most intelligent sibling. Even though the sisters have always been competitive, they support each other.
Patrick  (Matthew Lewis) – Louisa's boyfriend who works as a personal trainer. He is obsessed with sports and diet.
Cinematography:
I like the scene where Lou needs to go to work everyday with different kind of clothing per day. There's a fast pace of video there to show the routine activity. It simply shows that Lou is bored with her job.
Settings: 
Will's House/Mansion
Horse racing
Classical music concert
Lou's house (birthday scene)
Hawaii
Comments and Suggestions :
Loving can hurt…Loving can hurt sometimes… And, it's the only thing that I know. (Photograph – Ed Sheeran.) "Me Before you" is my bet Romantic Film of 2016 ever. I am never wrong when I saw the trailer in Youtube. I knew by that time that it's going to be worth watching.
I am glad I've got to watch it. My mom became overly addicted to it.  The soundtracks are so ED SHEERAN.  I mean most song used in the film is Ed Sheeran's song like Photograph and Thinking out Loud. It suits the British romance. Haha! Yes, I love the British accent going on the entire film as I remember my Harry Potter days.MATTHEW LEWIS (Neville Longbottom) of Harry potter is playing Patrick in this film. It surprised me! 😮
Let's go story-wise! Emilia Clarke (Louisa Clark) and Sam (Will Traynor) has a good chemistry together. The relationship between the two characters would be impossible if the accident didn't happen at all. That's where destiny enters. Clark became the caregiver of Will because she needs a job badly. The first meeting was really off as they hate each other. It changed when Will wants Clark to get fired. I love the way Clark defend herself. "You can't fire me. I was hired by your mother not you. I also need money that why's I am here!", she said. I like how honestly blunt she is. I know the feeling of just being practical that's why you need to do the job. People who are born rich will never ever understand that. Starting that day Will realize that Clark has a point. Maybe, she is right. He just let her stay as his care giver.
Eventually, they got to know each other through watching movie together and more conversations happened. The funny thing is Will even know what will make Clark happy on her birthday than her longtime boyfriend. Will's birthday present made her jump for joy. Yes, she has a long time boyfriend named Patrick. I just realized that it's not about the longevity you will measure a relationship but I guess it's about the chemistry or special connection. (6 months vs.  7 years) Speaking of relationship, Will's girlfriend breaks up with him after the accident. I don't like that his ex girlfriend keeps visiting him with his bestfriend. He congratulated them without them saying that they are a couple already.  They get married and even invited Will. That sucks.
I love Louisa Clark's  personality. I like her passion for fashion.
She's an interesting person who knows what she wants and will never give up. Will needs her. He changed positively when they have become closer. This movie will make you cry bucks because of Will's decision about his life. Watch it and you'll understand everything. (T.T) Bucketlist!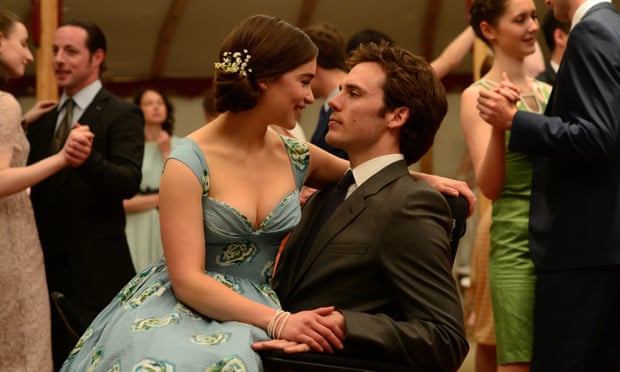 Real men do want making a woman they love happy no matter what the situation is. If your happiness becomes his happiness then that's it. Have no doubts. This movie made me believe that love comes not always with a sweet package. There are sacrifices and bitterness as a part. But, I guess that's real love all about. Two thumbs up for this film!
Rating : 8 out of 10