Synopsis:
Starting a new job can be a difficult challenge, especially if you're already retired. Looking to get back into the game, 70-year-old widower Ben Whittaker (Robert De Niro) seizes the opportunity to become a senior intern at an online fashion site. Ben soon becomes popular with his younger co-workers, including Jules Ostin (Anne Hathaway), the boss and founder of the company. Whittaker's charm, wisdom and sense of humor help him develop a special bond and growing friendship with Jules. (Google.com)
Trailer: 
Review :
The Intern (2015) is an inspiring, drama/comedy and work life movie that depicts the life of Jules Ostin as the Lady Boss CEO of About to Fit. Everything has changed into the best upon Ben becoming her senior intern. Ben has a big impact with her working life and even to her family life. As to Ben, Jules inspired him as he see how dedicated a CEO to work real best for the company. They have became best of friends towards the end.
Characters:
Settings: 
About the Fit Company
Jules Ostin House
Ben's apartment
San Francisco Business Trip
Comments and Suggestions:
Ben is such an adorable character in the film. Who would have thought that a company will hire an old intern? At first, I thought Anne Hathaway will act as the intern but to my surprise it is Robert De Niro. I also think that it is a unique idea to hire a senior intern. It is well-played by De Niro.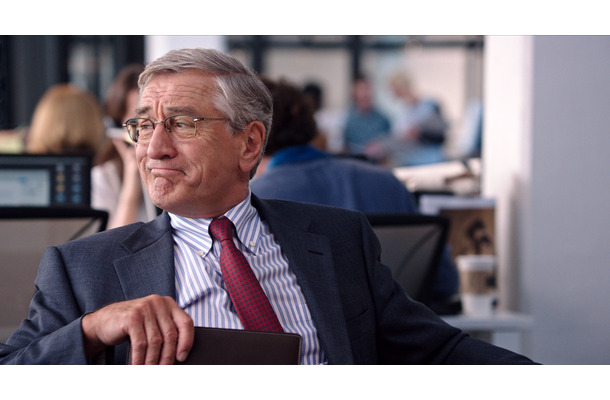 I've come to discover this movie when I saw it on the saved movie list from my cousin. I heard that it is a good movie starred by Anne Hathaway so I gave it a try. I was more amazed and moved after watching the movie.
I would describe this movie as wisdom-bound, humorous and engaging. I love Anne Hathaway ever since her previous movies. Even so, I think Nancy Meyers (the author) did a great job on the story. It delivers a great plot that would touch the modern women of today or even other people.
The 21st century women are goal driven, smart, and independent. She knows what she wants. She can be creative as she can. She has the liberty of expressing her thoughts without a limit. She can think like a man. (if you know what that means). On the other hand, she still has this vulnerable side that needs comfort and protection. Jules Ostin is the epitome of a 21st century superwoman. In a young age, she was able to be the CEO (founder) of a successful fashion clothing site that has rocketed from zero to zillions in record time. She's a genius when it comes to marketing. She's also the modern time "lady boss". I was actually more surprised to find out later in the movie that is she is also a mother. She has a family. Do you think she will be able to handle the company and family relationship perfectly? Watch the movie to find out.
Without Jules' approval, a senior internship program was launched in the company. It's like an experimental employment. It is where the story became more interesting. The senior citizens are the lax part of the population. They received allowance from the government. They avail side by side discounts of shops offered. They are waiting for their families to visit them. One SIP brochure flew on Ben's hand. He was interested to try it. And so, he made a short video saying why they should hire him as the Senior Intern. He passed the interviews. I laughed hard in one question, "How do you see yourself in 10 years?". Ben answered, "Do you mean when I am 80 years old?". It's just crazy, right? Grandpa Ben is so adorable. I want to be his colleague and friend too. 🙂
Everything has changed when Ben started working for the company. He didn't even mind if he is just an intern. To think that if you are the senior, you must have the highest rank in a company or at least give you a managing position because of your experience. rather, he will work directly as the CEO's intern. He's so obedient, attentive and observant to the needs of Jules and even for the whole company. He never forgets to blink. Haha! That is why he is labelled as "Mr. Congeniality". He has touched the heart of our super heroine as the story went by. I love how their relationship grow as senior-assistant turned into best of friends.
He even became a personal driver, baby sitter and a shoulder to cry of the lady boss. Yes, he never forgets to bring a handkerchief. Undeniably, it is really an unbelievable friendship beyond anything. Ben is also so cool to beat this generation gap he has with his younger colleagues. He even managed to have a girlfriend. What a hippie old man!
Overall, THE INTERN is a worth-watch movie that definitely best recommended to everyone. The combination of reality and humor has never failed to trick my emotion meter while watching. It made me cry and laugh a lot at the same time. How was that? Please do watch it and I am sure you will understand me better. 😀
Try to read on this Leadership Lesson adapted from The Intern movie. 🙂
Rating : 9 out of 10