Synopsis: 
The year is 1926, and Newt Scamander (Eddie Redmayne) has just completed a global excursion to find and document an extraordinary array of magical creatures. Arriving in New York for a brief stopover, he might have come and gone without incident, were it not for a No-Maj (American for Muggle) named Jacob, a misplaced magical case, and the escape of some of Newt's fantastic beasts, which could spell trouble for both the wizarding and No-Maj worlds. (google.com)
Trailer:
Review: 
Fantastic Beast and where to find them (2016) is another JK Rowling novel about Fantastic Beasts. As expected, it fall on a fantasy, adventure and action genre like the well known Harry Potter series.  The focus of the story is about a wizard who breeds and take cares of these Magical Beasts. His trying to find out other of its kind residing here in New York City. Along with that, he will also be a hero to plot of some dark wizard who's trying to control an untamed power.
Characters:
Settings: 
New York City
Ministry of Magic (NYC)
inside the briefcase
Comments and Suggestions: 
Are you a Potter head? If you are, I assume that you are interested watching this film. Also, I think you can relate with what FANTASTIC BEASTS are all about. It reminds me of Buck beak. The magic beasts we all know in the Prisoner of Azkaban. It is like some other stories about Hogwarts. The focus is on taming these magical beasts.
I watched this movie twice because on my first watch I wasn't able to see everything. I even didn't finish it because of doing some other stuffs. At least, for the second time I encourage myself to sit and make time watching it. I find it interesting because ever since I am a Potter fan so I can relate with some back stories they are talking about. I can also relate with the spells they are casting. I think cinematography wise it is well crafted for a fantasy magic film. The combination of magic beasts and people on screen is incredibly amazing because it looks real. Regarding the story, Newt seems to be a real wizard who is a bit odd. The swap of briefcase adds the humor, suspense and conflict along the movie. Of course, to know that it was swapped with a muggle's briefcase is even more humorous. This muggle became an instant side kick of Newt in the film. I was pretty entertained with catching the magical beasts. It's like trying to catch a Pokemon. On the other hand, not all people are potter fans so this film might be exclusive only to those who understands the world of Harry Potter because it's relatable.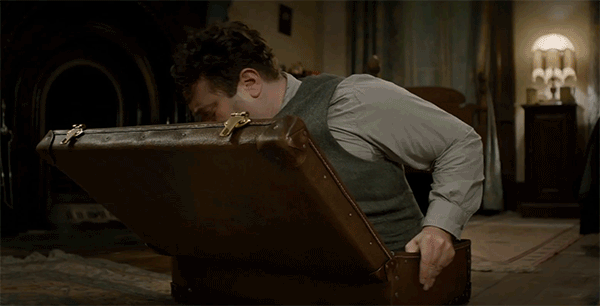 The story was not that engaging for me. The only thing I know is I was entertained with magic. I brought the vibes of HP which I love. My favorite part would be GETTING INSIDE A BRIEFCASE (literally). I am a fan of minimalism and so if I have that kind of briefcase I would have my own special space that no one can see. I can place my other things there. That would be so cool! Overall, the movie amazed me. I am sure if you love fantasy you will definitely buy this one. 😀
Rating : 8 out of 10